To see a larger picture of any of the palaminos & buckskins, just click on the image.


This is the Breyer traditional Proud Arabian Mare that's been painted to a nicely shaded dappled palamino. She is owned by Lee Ann Zachry of California.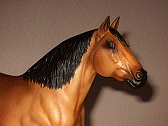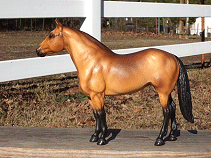 This richly shaded buckskin was created from the traditional sized Breyer "Adios" model. He is owned by Mindy Young of Minnesota.

BACK